Did you know there has been a room that has been created that is so quiet that you can hear your own heartbeat, an anechoic chamber at Orfield Laboratories in Minnesota. The longest a person can tolerate being in this room is approximately 45 minutes – apparently, the silence is too much to bare.
So how long can your sales team looking for new business sustain from silence from their prospective clients?
This is an issue that is happening across many industry sectors. Many businesses have been relying on purchased contact lists of email addresses and phone numbers. They have found that from the 1990s through until about 2015 that they have been able to rely on the profits generated from these lists from cold calls and email blasts, with little push back from the people that they are drowning in their torrent of unsolicited communications.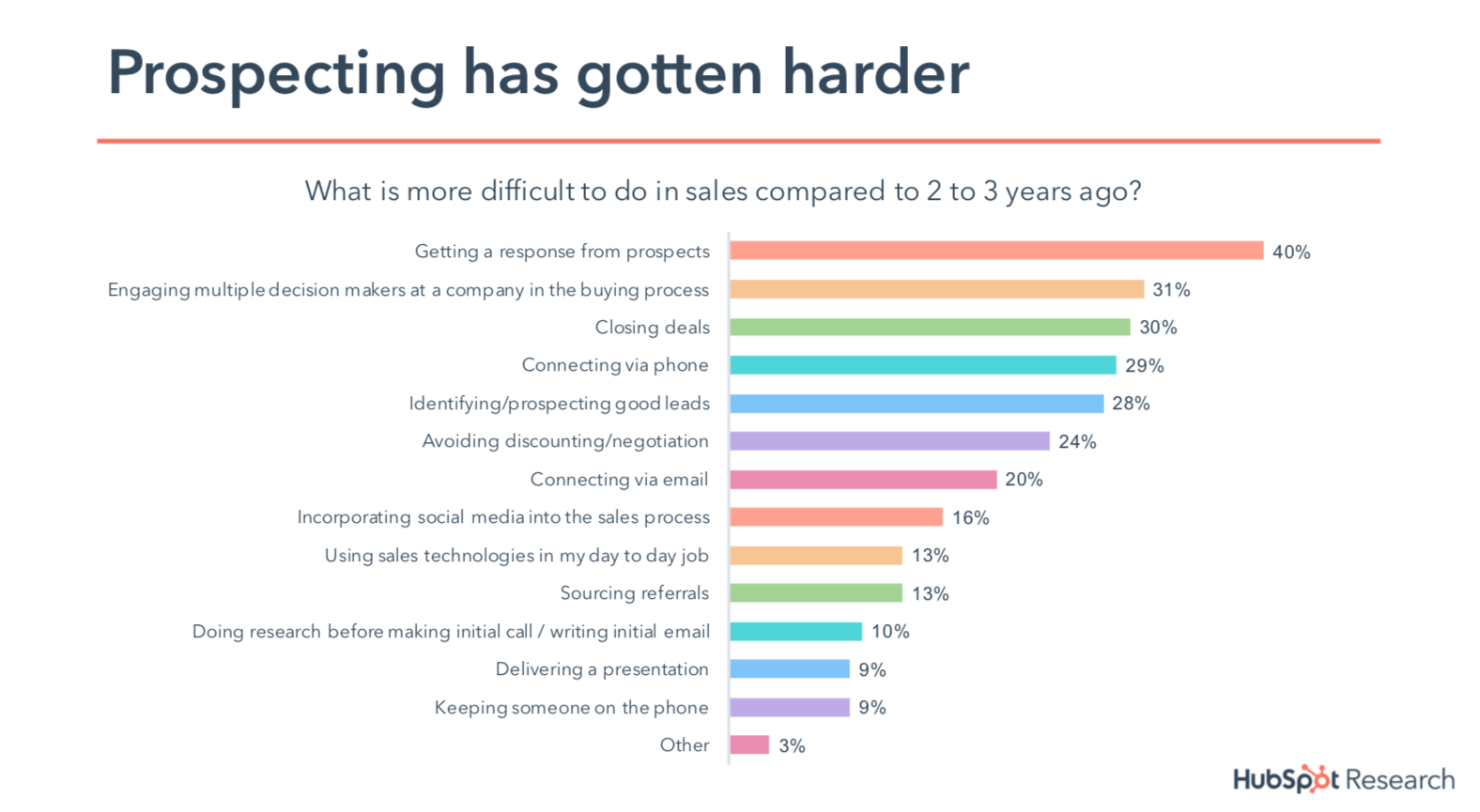 Source: State of Inbound 2018 
This approach no longer works and sales have become more difficult today compared with 2-3 years ago. Salespeople are finding that their email and voicemails are resulting in silence from the prospects that they are trying to reach, with 40% of people surveyed having no response from prospects. Engaging multiple decision makers in the buying process is also more challenging as key stake holders have other priorities. Thus, the interest is lacking in what the salesperson is putting forward.
Technology has now advanced to the point where emails are being blocked and phone calls are being screened.
In Singapore it is now standard practice across sectors for all client facing staff to be instructed to not confirm email addresses, not supply alternative contact numbers to reach departments where the prospective person may reside and instead supply an email address that will have little to no chance of making it to the end target contact. This is because if the person is interested in solving a problem, they will perform their own searches.
Revenue growth is still driven by existing business, but new business is an area of challenge. Business owners are blaming sales managers; sales staff are moving on looking for greener pastures or being released from the business.
With the top 4 areas that sales staff and business owners are finding it harder today being
Getting a response from prospects, this being via email or phone
Connecting with prospects on the phone
Getting stake holders to meetings, and
Closing deals
It is clear that a better strategy and overall sales approach is needed.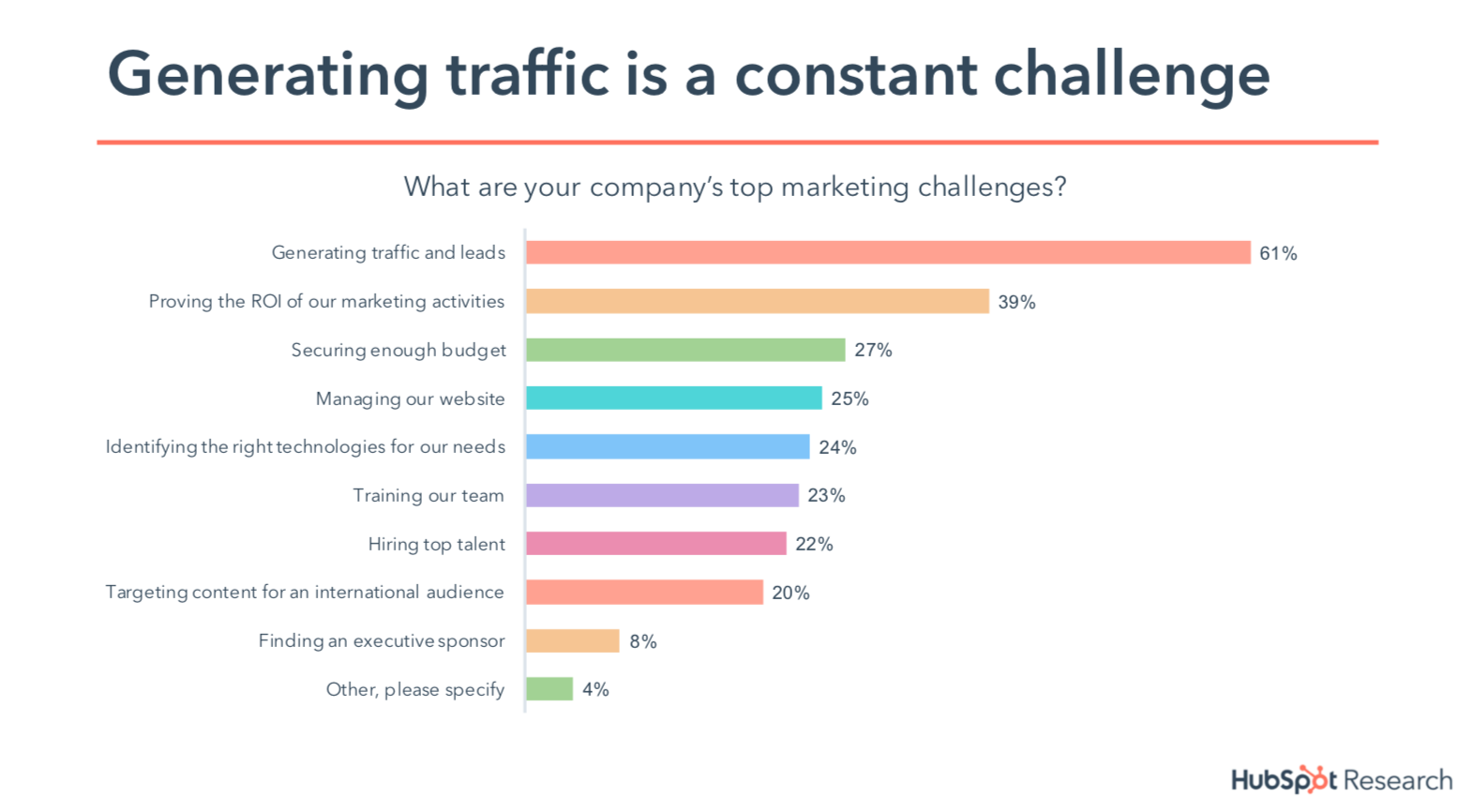 Source: State of Inbound 2018 
This comes back to old school approaches with using a strategy (also known as a plan) instead of tactics (individual actions). Many business owners have engaged with creative agencies putting forward new pages and guaranteeing a certain number of visits to their customer's site. Business owners are still finding that after significant investment that their ROI is lacking or non-existent.
A commercial focus is required when looking at your marketing activities and a maturity as a business owner is needed to recognise that creative agencies have not taken ownership of the customer engagement process. Attract and nurture prospects with engagement is not with in creative agencies skill sets as they lack the industry experience of their customers vertical to understand their customers end client's pain.
As a result of this gap the void is filled with silence. Have you had enough of the SILENCE?

If this blog, or the challenges highlighted by our new video resonate with you, contact us today for an initial discussion on how we can help you and your business overcome these challenges, at info@alchemiseconsulting.com or @alchemise_cons or call our office on +61392255022.