Overview – Why do you need to have Live Chat?

The importance of Digital customer service led sales and marketing channels offering LIVE CHAT on your business website is NOT OPTIONAL anymore with B2B and B2C engagement. With the progression of customer service automation to ChatBots, AI and Live Chat engines, you don't know where and when your next inbound prospective sales opportunity might come from – so BE PREPARED to have the capability to be responsive 24 x 7 or be available to engage without delay or you will miss out on new business enquiry for your pipeline!
The Initial Customer Journey "Live Chat" User Case – National IT Services Business
A leading national IT services business needed some assistance to develop their Inside Sales Team process and growth.  The General Manager made an enquiry as a new lead through our website using live chat options as the communication channel of preference.
The customer buying process identified is summarised below and as a result of investment in building a content and contextual driven strategy once the target customer profile was development and understood:
1) There was a need for assistance to see who could help in the local marketplace.
2) Google keyword search performed 
How to build Inside Sales teams
How to develop Inside Sales processes
3) One of Alchemise Consulting's blog came up in the results organically SEO ranked on the first page.
https://alchemiseconsulting.com/how-inside-sales-drives-lead-generation/
4) The initial enquiry was made from our Hubspot Conversations website chat room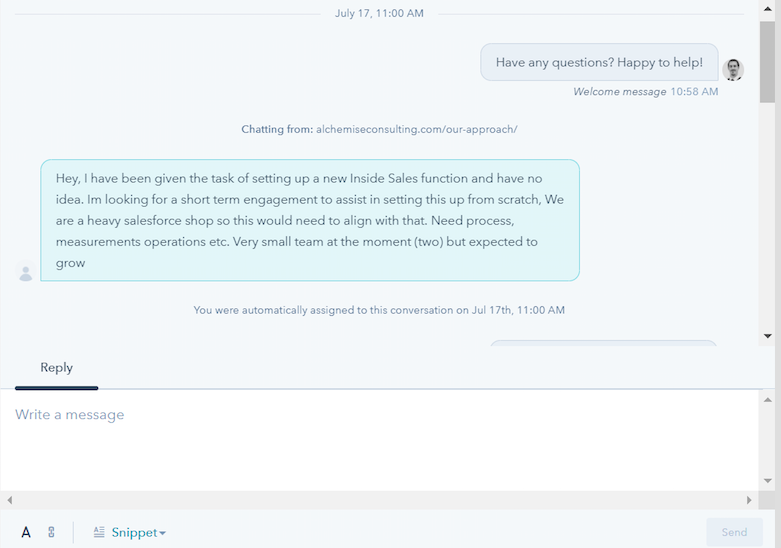 5) Our Alchemise Inside Sales Consultant was notified of this in real time and was able to respond from his mobile application within one minute to respond to the request and then switch channels to convert the lead to a phone based outbound call within five minutes.
6) After an initial marketing qualified lead (MQL) discovery discussion opportunity was identified, this was converted to a sales qualified lead (SQL) with a meeting set that same week with the key stakeholders/decision makers.
7) Following the initial prospective client meeting a proposal was delivered within the same week with a solution.
As you can see from the example the acceleration from top of funnel to bottom of funnel within a one week timeline was due to a two minute response time from being found on Google Search from organic SEO for an evergreen content piece, the live chat lead was developed from initial customer service to sales engagement and new well qualified opportunity for the sales pipeline.
Our solution

We have been running Salesforce CRM and HubSpot marketing automation with a Live Chat (Hubspot Conversations feature) on our homepage to allow us to capture and qualify any real leads quickly. It has a round robin team feature for any defined "customer agent" to pick up live and be notified automatically that a new web enquiry has come in within message inbox.
From a customer experience and journey mapping exercise, we choose to offer our prospective customers the options for phone, email, contact us or live chat. This was not enabled as just a pre-scripted AI programmed chat bot which allows us to deepen each live chat engagement initially.
Outcomes

As part of the shift to a 360 degree flywheel approach by HubSpot, this was not just a two-dimensional traditional marketing to sales funnel, our distinct customer centric approach allowed us to: 
Add value to this new prospect
Respond quickly to their timelines
Position our value proposition in person with a meeting with the two key stakeholders/project sponsors
Lead with a proposal ahead of the two other competitors within a week
Subject to the budgeting cycle and project priorities we have quickly used inbound digital channels from content marketing to a sales qualified engagement to accelerate our sales process with this leading national IT services prospect.
Key takeaways & learnings

What I wanted to highlight is a textbook example of how the investment in sales enablement, CRM/marketing automation platform, customer experience and live chat channels can help sales team accelerate their sales process to reduce the 'friction' for customers to engage with us.
The lead response time enabled us to convert the warm lead within one minute response time instead of a 24 to 48 hour telephone call back response time from sales allowed us to shorten the sales funnel cycle from MQL to SQL.
Using a marketing automation tool like HubSpot allowed us to monitor, log and respond to our potential customer quickly and at the right time.
The role of the Inside Sales Representative or Sales Development Representative today needs to also be multi-skilled with digital omni-channel customer service support skills and experience to handle inbound and outbound customer interaction dynamically.
The role of the traditional telemarketer based on cold calling is at risk and needs to diversify skillsets into social and digital sales whilst having the ability to be customer centric. Most importantly it's understanding how to really build trust and off value to your prospective clients during outbound and inbound multichannel interactions ( up to the prospect's choice of communication channel).
We talk about bridging the gap between sales and marketing and this experience shared shows how easily the digital channel of experience can provide immediate ROI.
A traditional example in contrast which DOESN'T WORK for customer engagement today
How this unified communications/contact centre services company just missed out on a new genuine lead enquiries and needs to digitally transform their sales & marketing approach.
It is most ironic that this well established Australian service provider sells contact centre and unified communication solutions but do they really practice what they preach?
In just having two communication channels on their website – contact us for the Melbourne office with a 1300 or local direct dial number.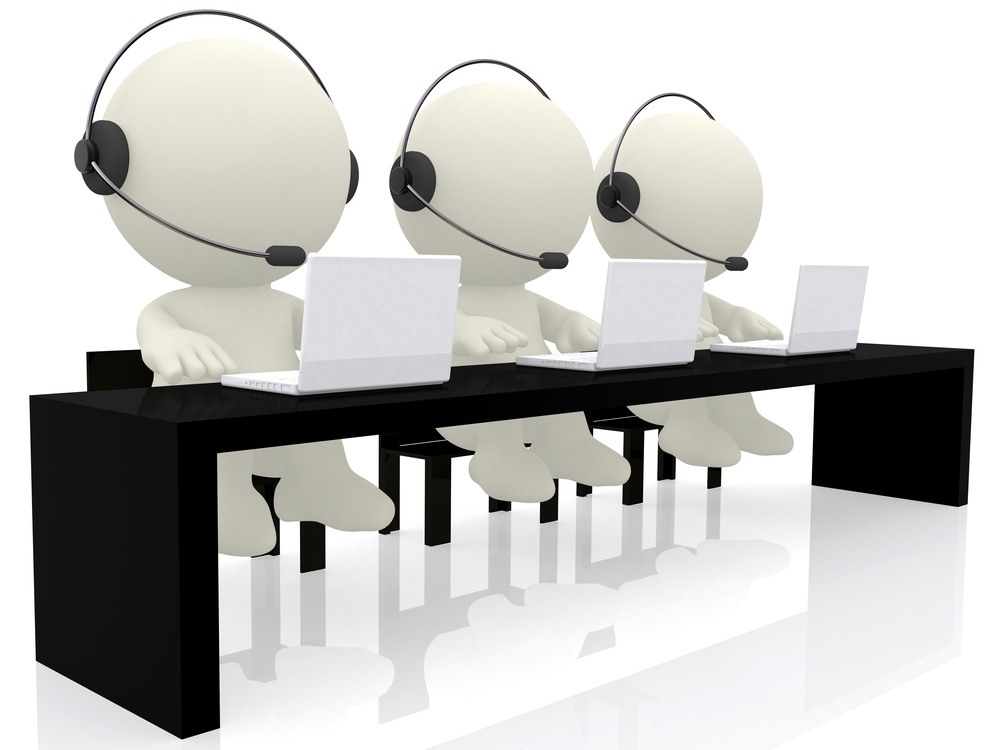 Upon calling their office three times over a two hour period, and pressing every option on their IVR systems:
1 – for Customer Support
2 – for Sales
3 – for Accounts
4 – for Reception
The common response was SILENCE; each channel option rang out or was put onto a dial forward to the next department but no voicemail or diversion to a real person.
As more and more companies choose to reduce cost with reception or a front office what will happen with this silence which makes it challenge for genuine enquiries to get through on the phone or someone to assist. It seems like the reachability in this digital age is becoming less focused on customer service with a reduction of communication channel choices to cater for broad demographic access. 
Look out for our upcoming blog around "The impact of silence"
For a new customer lead enquiry this wasn't a promising start, especially when I was trying to reach the Sales Director. When I eventually reached him, I asked if he was aware of this inbound challenge to get through to someone either in Sydney or Melbourne office and how many more new sales leads he might have missed! What a shame it would be if it was the next $1M deal that another competitor won from their lack of availability to be contacted from an inbound call.
To find out more how you to can stop a leaky funnel effect or not miss out on valuable new inbound leads with LIVE CHAT, please contact us for a confidential discussion and we can review your requirements first to assist.
If you would like another example of how inbound marketing automation helped us close a new client deal in just 10 days – please click here for our blog.