Here is Part 2 of this article continuing on from Part 1: Why Inside Sales is one of the keys to successful lead generation.
How Inside Sales could provide more value than Business Development for SMEs.
The inside sales function can help bridge the gap between MQLs and SQLs with the right onboarding process and agreement between both marketing and sales.  We see this as a combined function with, ideally, common budget allocated between the two departments. Our recommendation is to engage inside sales specialists who understand your market and are able to scale based on demand.
For many SMEs and growing businesses the process of hiring strong and experienced BDMs to generate new business isn't always possible within initial budget considerations. Depending on the sales and marketing go-to-market strategy, the role inside sales plays will have significant impact on marketing activities. You can drive top of funnel leads through multiple channels, however often there is little resource allocated to follow up leads and nurture them. To increase sales pipeline generation and the ability to accelerate sales revenue targets requires increasing sales productivity and marketing aligned discussions.
Based on the buyer's journey and focussing on sales enablement, more budget should be invested in marketing in ways that support sales. Part of the justification to consider is that the 'people' element of inside sales (in-house or contracted) can take less time to payback ROI and also shorten the sales cycle based on sales enablement productivity goals than just on technology automation alone.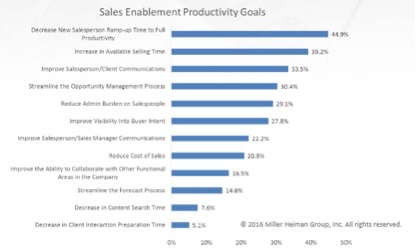 Source: Miller Heiman Group Report 
Choosing an outsourced telemarketing campaign that may not drive qualified pipeline opportunities or contribute to the required ROI required can be risky, as can be hiring the wrong BDM. Your brand reputation could be affected with negative perception from prospective organisations receiving cold calls that can have a future impact. While there is always risk involved in making these choices, it is important to carefully consider any and all relevant factors and plan to help to mitigate this risk, and to increase your success.
Many traditional marketing agencies offering guaranteed cost per lead can prove to be of low value, unless the metrics can be clearly measurable and aligned to sales impact. Caller agent behaviour changes depending on the reward and their skill levels.  A minimum standard BANT method needs to be used but a level of consultative or trusted advisor approach with relevant subject matter and communication skills will increase the lead qualification quality. The only way this can be demonstrated is having the sales and marketing function sit in the same room first and agree on the common objectives with a sales enablement process.
Step One:  To agree on alignment with the correct sales targeting and marketing activity
Step Two: Once the clear requirements and goals are highlighted through a structured workshop, the level of investment can be agreed towards joint accountable and responsible KPIs first.
The alignment process looks like this as an example.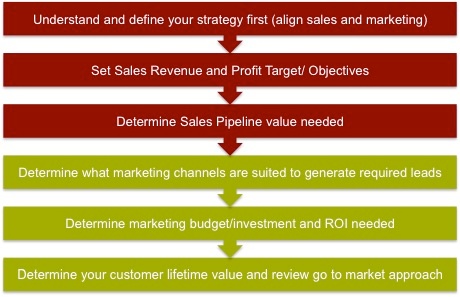 Source: Alchemise Consulting sales enablement process
---
Why the strong focus on Inside Sales function for lead generation?
An Inside Sales Role function provides:
Value for money and accelerated sales pipeline development in line with sales and marketing aligned goals.
Opportunity to nurture a good resource with sales and marketing skills development.
The domain expertise and skills can be nurtured and talented individuals can be progressed into BDE or BDM role under senior experienced managers which helps with talent retention and promotion.
There are no guarantees or security from a traditional recruitment process in hiring full time sales teams. For small companies with limited hiring experience, this cashflow outlay can prove very hit and miss, and risky at the least. Both direct and indirect costs are at risk if the wrong hiring choice(s) is made, often with perfomance monitored throughout a six-month probation period.
The employment market is shifting to an outcome-based model and the certainty of fixed costs and measurable tangible results. Looking at the accounting and legal industries for example, some of the mid-tier firms are slowly shifting from time-based to value/outcome-based services. However the cost for quality hired resources needs a good talent acquisition plan and budget.
Considering a shared risk model in the professional services helps you shift to deliver value added services and demonstrate a willingness to differentiate in the marketplace and to your clients.
Gaining access to an experienced sales team on demand provides both a skill and budget buffer during peaks and troughs as properly marketing qualified leads can be generated through multiple channels and nurtured. The provision of consistently qualified leads and communication from marketing will also offer more confidence to the sales team.
Imagine the focus on sales teams with aggressive targets for Q4 and then there is no pipeline for Q1…  Does this scenario sound familiar? An inside sales presence to complement your internal sales team can help solve this all-too-common challenge.
The value of inside sales as a service can fill the gap in building a real sales pipeline, so having access on demand can help drive up prospective client engagement and opportunities.
I would hire an inside sales resource on demand rather than paying for lower level telesales resources who do not have the required expertise in the industry. What I believe brings success is not only the right experience but also the passionate attitude and personality suited to the client and part of the wider team.
At Alchemise, we strongly focus on not only nurturing leads but also our inside sales team management focus depending on the type of campaign and expertise required. 
Suggested Inside Sales Metrics
The primary metric to consider is Contacts to Conversions that is driven by sales pipeline and revenue generation as a truer measure of success.
Common digital marketing metrics such as content impressions, web visits and content downloads at the top of funnel typically becomes an MQL. This often frustrates sales as the time and cost of these measures doesn't have an aligned correlation with sales revenue and pipeline/ opportunities generated.
We would like to challenge the conventional model with one that aligns sales and marketing with an inside sales function.
In Closing… 
If you want to differentiate your organisation with a more effective aligned sales and marketing growth strategy to generate higher ROI on your marketing investment, sales enablement and inside sales is the way forward. The attention should be directing focus towards the middle and bottom of funnel conversation or engaging a marketing consultancy which appreciates both sales and marketing alignment and not just generating top of funnel leads.
Unlike a telemarketing "one size fits all" guaranteed cost per lead model commonly delivering less than 1% lead conversion, a different approach is to look at the detailed setup and preparation first. A detailed process aligned to the business strategy to increase conversion rates typically establishes a benchmark after the first 3 months using an rolling average lead indicator.
If you can appreciate the delivery process with subject matter experts from the inside sales resources and a quality over quality approach, this is also good indicator that you have found a good fit of who to work with.
Come and arrange an obligation free discussion with Alchemise Consulting and our experience with a holistic, people, process and systems approach or find out about our Inside Sales as a Service.